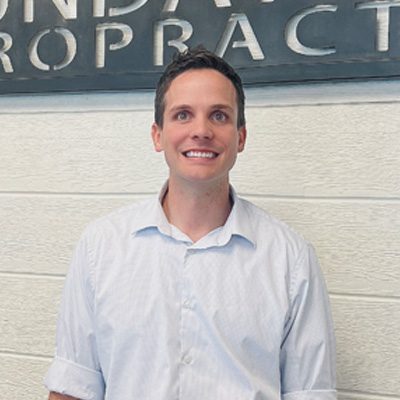 Chiropractor
Matthew Filtz DC
Dr. Matt grew up in rural Wisconsin where he spent most of his childhood outdoors, hunting, fishing, and working. He comes from a large family and grew up working with his father and relatives on their farms and forests, so he is no stranger to hard work! While growing up he was active in multiple sports, which started his interest in the human frame and how to help it reach its optimal potential.
Upon graduation from high school, Dr. Matt enlisted in the Marine Corps and served his country deploying to Iraq and other foreign lands. While in the military he had an injury that led him to chiropractic. After some time, he realized the importance of chiropractic's role in the overall health of his body and how he could help people without the use of drugs or surgery! He then decided to exit the Marine Corps and went on to earn his doctorate in chiropractic. He attended the University of Wisconsin-Stevens Point, where he graduated with honors and a bachelor's degree in biology, with an emphasis in human anatomy and physiology. He then attended the chiropractic program at the prestigious and most well-known chiropractic school in the world, Palmer College of Chiropractic. At the completion of his studies at Palmer College, he graduated with the academic honors of Magna Cum Laude.
Dr. Matt has a deep-rooted passion to serve his community. He is very passionate about helping athletes, the military, and families!
chiropractor
Taylor Filtz DC
Dr. Taylor grew up on a lake in central Wisconsin and loves to water-ski, boat, fish, and explore the outdoors. From a young age she has always enjoyed spending time with her family outdoors. Dr. Taylor grew up swimming and pursued it competitively in high school. In high school she was a household name for competitive swimming in central Wisconsin being named an all-state swimmer all four years she was in high school. 
Following a successful career in high school swimming and achieving academic excellence, she was recruited to swim at the University of Wisconsin-Milwaukee. It was during her swimming career that she was introduced to the power of chiropractic. She experienced multiple injuries while competing at the collegiate level and contributes her quick recovery to the chiropractic care she was receiving. Dr. Taylor, just like most of our professional athletes today, realized that chiropractic care was vital for optimal performance and decided to make it a part of her lifestyle rather than waiting for a health concern to arise.
After completing her bachelor's degree in biology with an emphasis in human anatomy and physiology, she decided to attend the Doctor of Chiropractic program at the prestigious and most well-known chiropractic school in the world, Palmer College of Chiropractic. Dr. Taylor had the opportunity to work under the lead pediatric clinician at the Palmer clinics where 100% of her patients were pregnant moms, babies, kids, and mothers! Dr. Taylor graduated Summa Cum Laude from Palmer College of Chiropractic and was awarded the title of Salutatorian of her class with a GPA of 3.98 on a 4.0 scale.
Dr. Taylor loves to spend time with her family and this passion is exuded in her love for caring for moms, babies, and kids of all ages! She wants to strive to make our community healthier and she knows that sick kids usually mean future sick adults, so she wants to help kids start out healthy so they can become healthy adults!
Webster Certified for Pediatrics and Maternity
Drs. Matt and Taylor moved to West Michigan for their internship so they could have the privilege of serving at Higher Health Chiropractic, the largest chiropractic office in West Michigan with Dr. Erik Kowalke. Dr. Erik has been published in pregnancy magazine for his work with pregnant moms and infants. During their time in the office, Drs. Matt and Taylor worked first hand with patients who suffered from conditions such as Multiple Sclerosis, Chronic Pain, Sciatica, Migraines, Fibromyalgia, Sinusitis, and Arthritis. This practice was also the largest pediatric practice in the entire state of Michigan, and many children benefited from chiropractic care with health issues like autism, A.D.H.D., colic, bed-wetting, and ear infections.
Drs. Matt and Taylor have post-graduate training in pediatrics and pregnant women. They are certified in the Webster's technique and their experience working with pregnant women, babies and children allow them to provide the highest quality of care. Their expertise and knowledge allow them to provide gentle and effective adjustments that allow the body to heal itself with tremendous results.
Dr. Matt and Dr. Taylor are pleased to be a part of the Green Bay community and are ready to serve those that want to lead a pain-free healthy life. 
International Chiropractic Association Board-Certified Member
International Chiropractic Pediatrics Association Member
Webster Technique Certified
100% Veteran Owned Business
Chiropractic Assistant
Odalys, CA/CART
Odalys, who was originally born in California, was raised in Green Bay. After studying here and graduating college with a Business Management degree, she was unsure on how to proceed with her career; she has many passions and can be indecisive sometimes!
After having a few jobs in Restaurants and lots of Customer Service, she eventually ended up in an office environment, but after sitting at a cubicle all day every day, she realized that is not what she wanted to do. Odalys eventually came across Foundation Chiropractic and joined our team in March of 2022! She is excited to be a part of a growing community and is also looking forward to moving to the new building as well! In her spare time, Odalys loves to spend time with her friends, family, and of course her new baby nephew, watch TV/Movies, continue to learn music, and occasionally draw or paint! She loves all things design and fashion, her dream is to attend a NY or Paris Fashion Show one day. Odalys also loves to travel to Mexico and visit family whatever chance she gets, especially to get away from the Wisconsin cold!
Chiropractic Assistant
Lupe, CA, CART
Lupe was born and raised in Los Angeles, CA. She has always had a passion for food and cooking at the age of 16 was accepted to attend Le Cordon Blue College of Culinary arts in Los Angeles. Sadly, Lupe had to decline this offer after her family decided to make their move to Green Bay, WI.
As a young adult, Lupe was unsure as to what career path to take but has always had an interest in the medical field. She previously worked as a CNA for some time in hopes of possibly becoming an RN. Lupe was presented with an unforeseen career path after starting work as a quality assurance tech at a local slaughterhouse. Lupe was the Food Safety and Animal Welfare Superintendent there for 9 years, which allowed her the opportunity to gain management, leadership, and auditing skills. After getting married, she found it was time for a career change to be able to spend more time with her family. That decision led her to Foundation Chiropractic in December 2019.
In Lupe's spare time she loves to spend time with her family and her pug, Bombon, at home. She still loves to spend time cooking and baking and always keeps the team here well-fed! Her love for food has not gone away and she's always in search of a new restaurant to check out (seriously, if you need restaurant recs, Lupe is your girl! She's also a life-long learner and subscribes to Snapple Fun Facts and learns one new thing each day!)
Chiropractic Assistant
Kallie, CA, CRT
Kallie has a passion for helping those around her be the best versions of themselves both physically and mentally which led her to obtain a Bachelor's degree in Psychology and a Master's Degree in Sport, Exercise, and Performance Psychology, both from the University of Wisconsin - Green Bay.
While continuing to obtain further certification and help athletes and performers achieve their optimal performance both physically and mentally, Kallie joins the Foundation Chiropractic Team as they too share the passion for helping those in their community achieve their optimal performance in life through chiropractic care.
In her free time, Kallie enjoys spending time with her friends and family, kayaking, boating, reading, and golfing. In addition, Kallie is an avid sports fan and enjoys cheering on (often loudly) her favorite sports teams, the Green Bay Packers, and the Pittsburgh Penguins.
Chiropractic Assistant
Kiley, CA, CRT
Kiley grew up in the Green Bay area, graduating from Kiel High School, and played softball and swam competitively throughout high school. She attended NWTC for nursing and business management and obtained her Real Estate License. Kiley has held numerous management positions in the service industry and served as an events coordinator.
In March 2022, Kiley gave birth to her 1st child, a baby boy, which ultimately led her to join the Foundation Chiropractic team as having more flexible hours would allow her to spend more time with her baby. Though she had no prior chiropractic experience, she loves to learn new skills and enjoys helping those around her.
In her spare time, Kiley loves spending time with her 3 cats, camping with her family, bowling with her significant other, and golfing in the summer.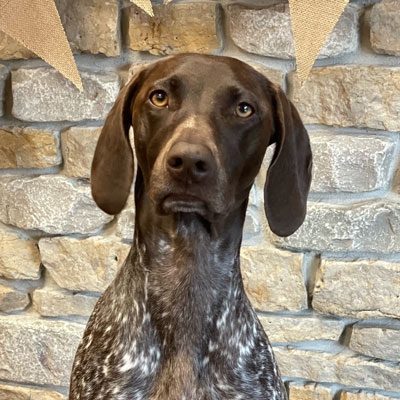 Maple is the doctors German shorthair pointer who is here to greet everyone during their appointments at the office. When not in the office Maple enjoys spending time outdoors. She enjoys playing ball, swimming, and going out on walks. You can win her heart over with back scratches, belly rubs and treats. 
Monday
10:00am - 1:00pm
3:00pm - 5:30pm
---
Tuesday
3:00pm - 5:30pm
---
Wednesday
10:00am - 1:00pm
3:00pm - 5:30pm
---
Thursday
8:30am - 12:30pm
3:00pm - 5:30pm
---
Friday
Closed
---
Saturday & Sunday
Closed